Kind van die Noodlot December Teasers is out and the Summary of the whole December Episode has been uploaded here on doraupdates.com, Read on and Stay Entertained.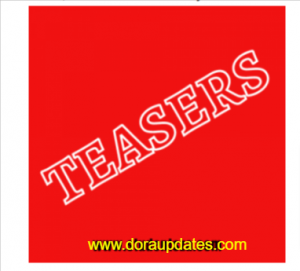 Kind van die Noodlot Teasers 2022 December Episodes, Full Story
Thursday 1 December 2022
Episode 88
Elif goes on a ride with her new car, but stays away for far too long. The worried Yorukhan family starts searching for her after a horrid turn of events.
Monday 5 December 2022
Episode 89
Elif is in a horrible car accident after her driver is shot and the car rolls into the sea. Maksut is on the scene and tries to save Elif.
Tuesday 6 December 2022
Episode 90
Elif is still missing and Kahraman wholeheartedly believes that she's still alive. Ibrahim is on the run, but can he outsmart Kahraman and his team?
Click Here for more of Soapie Teasers
Wednesday 7 December 2022
Episode 91
The police tell the Yorukhans that they're ending the search for Elif, but Kahraman still believes she's alive. Lying in a hospital bed in Maksut's house, Elif emerges from the coma, but something else is very wrong with her.
Thursday 8 December 2022
Episode 92
As Maksut's team gets Elif ready for surgery, Elif seizes an opportunity to get a nurse to call Kakraman, but will she? Kahraman enlists professional help to help trace Elif.
Monday 12 December 2022
Episode 93
While Kahraman is desperate to find his wife, Elif gets more bad news. Tensions rise between Kiymet and Sultan and Defne uses the situation to her own advantage.
Tuesday 13 December 2022
Episode 94
Maksut takes Elif to a clinic in Switzerland, in the hopes that she will walk again. Kiymet and Defne insist that Sultan tried to abduct Toprak and Sultan loses it. Ziya politely asks Sultan and Nazli to return to Hatay.
Wednesday 14 December 2022
Episode 95
Kahraman is apathetic as he pines for Elif and withdraws himself while the family business is on the verge of bankruptcy. Ziya and Kiymet agree that Kahraman should remarry Defne.
Thursday 15 December 2022
Episode 96
Toprak has a high fever and Defne takes him to the hospital, where he has a seizure. Meanwhile Elif plans to escape from Maksut, by getting him out of the house to buy her daffodils.
Monday 19 December 2022
Episode 97
Defne and Kahraman return to the mansion as a married couple and Defne does everything in her power to make Kahraman happy, but he tells her off in no uncertain terms. Maksut is at his wits' end with Elif and arranges a surprise visitor.
Tuesday 20 December 2022
Episode 98
Although Elif is determined to confront the Yorukhans and retrieve her child, Maksut still tries to distract her with his plans in making her his wife. Kahraman feels responsible for the company's loss and implements an unpopular solution.
Wednesday 21 December 2022
Episode 99
Maksut pretends to be Yakup's lawyer and meets up with him at a restaurant. He then blackmails Yakup, by saying that he wants to be a business partner or he will spill the beans on his betrayal towards his family.
Thursday 22 December 2022
Episode 100
Elif reads a newspaper article describing Defne and Kahraman as being in love and happily married. She vows to destroy him financially by becoming a majority shareholder in his business.
Monday 26 December 2022
Episode 101
Elif finds out that Toprak has been admitted to hospital and Maksut agrees to take her to secretly see him. Defne imagines seeing someone resembling Elif leave the hospital.
Tuesday 27 December 2022
Episode 102
Sultan pays Toprak a visit and Kiymet and Defne try to get rid of her, but Ziya comes to the rescue. Kahraman insists on meeting the partner and Yakup scurries around. Elif gives Maksut an ultimatum.
Wednesday 28 December 2022
Episode 103
It's the start of a war when Defne and Elif meet again. Although Elif and Maksut assure Defne that they aren't planning anything and want to be left alone, Defne doesn't trust the peace. And with good reason…
Thursday 29 December 2022
Episode 104
Kahraman and Elif are alone, behind closed doors in the mansion. Elif refuses to speak to him, and refers to herself as Zeynep, Maksut's wife. Meanwhile Ziya confronts Yakup about making Maksut a partner in the business.
To help you get the most recent updates about Kind van die Noodlot Teasers and Teasers all over South Africa, Don't hesitate to like our Facebook Page and also subscribe to our mailing lists.
For More Inquiries about Kind van die Noodlot Teasers, please, kindly drop a comment below We will respond to you ASAP.
I HOPE THIS POST WAS USEFUL, PLEASE DO NOT HESITATE TO SHARE WITH FRIENDS!!
Tags: Kind van die Noodlot, Kind van die Noodlot December Teasers, Kind van die Noodlot Teasers 2022 December Episodes