Redemption November Teasers is out and the Summary of the whole November Episode has been uploaded here on doraupdates.com, Read on and Stay Entertained.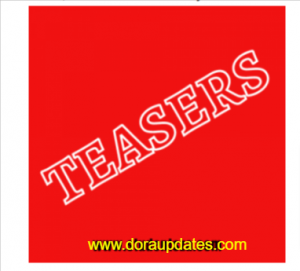 Redemption Teasers 2022 November Episodes, Full Story
Tuesday 1 November 2022
Episode 22
Mama Ngema is busted in her schemes and Evelyn learns that Zwelakhe was conducting fake miracles.
Wednesday 2 November 2022
Episode 23
Zwelakhe's secret of his fake miracles has been exposed to the media. Sindiswa is close to discovering her husband's secrets.
Thursday 3 November 2022
Episode 24
Sindiswa opens a pandora's box and cannot believe what she finds inside it.
Click Here for more of Soapie Teasers
Monday 7 November 2022
Episode 25
Faith is shocked to learn how deep and dark the association with Nimrod goes and is taken aback when Philly shows her more secrets in the chapel.
Tuesday 8 November 2022
Episode 26
Faith's calling is bigger than she thought; her grandfather gives her a major task. Evelyn asks Philly to help her hunt for her father's killer.
Wednesday 9 November 2022
Episode 27
Nimrod drops a bomb shell on Faith and Philly and they have no choice but to dance to his dangerous tune. Thato gets an opportunity of a lifetime.
Thursday 10 November 2022
Episode 28
Faith sets the dogs on Nimrod when she reveals crucial information to his nemesis, but then she learns news that threatens everything the Zikode's have come to know.
Monday 14 November 2022
Episode 29
Sabelo wants to use the girl's trip and drugs as bait to catch Nimrod. Evelyn wants Philly to help her find Basetsana, and Thato is worried that Enzo will want nothing to do with him after Nimrod's interrogation.
Tuesday 15 November 2022
Episode 30
Faith and Sabelo's plan is compromised.
Wednesday 16 November 2022
Episode 31
While looking death in the eye, Faith finds herself face-to-face with her dad, and she is shocked to see Paster Simon alive.
Thursday 17 November 2022
Episode 32
Faith learns some hard truths about her father.
Monday 21 November 2022
Episode 33
Pastor Simon resurfaces and the Zikodes' world is turned upside down all over again. Sabelo comes face-to-face with a woman who claims to be his mother. Thato signs a life changing deal.
Tuesday 22 November 2022
Episode 34
Pastor Simon's troubles seem to get bigger but he is not willing to go down without a fight, even if it means he could die, again. Basetsana lets Simon know that she has bigger plans for them. Oupa consoles Thato over his loss.
Wednesday 23 November 2022
Episode 35
Pastor Simon returns to the love of his life. Sabelo realizes that he's been neglecting his marriage. The Youth is excited about having their own Sunday Service at the church.
Thursday 24 November 2022
Episode 36
While Faith puts her foot down, she will be the senior pastor and not Pastor Simon, she gets the shock of her life when she learns she's pregnant, and Sabelo could be her brother.
Monday 28 November 2022
Episode 37
Pastor Simon finds himself in a tricky situation when someone dangerous shows up at his door. Faith confirms that she is pregnant, and starts to weigh her options.
Tuesday 29 November 2022
Episode 38
Basetsana puts pressure on Pastor Simon to restore ownership of the church so business can carry on as usual. Faith tries to tell Sabelo about her pregnancy. Pastor Simon gives Faith a glimpse into his past with Basetsana.
Wednesday 30 November 2022
Episode 39
News of Faith's pregnancy test lands up in the wrong hands. Sindiswa doesn't miss an opportunity to taunt Faith, and Refiloe plans a party of a lifetime to saver her street name.
To help you get the most recent updates about Redemption Teasers and Teasers all over South Africa, Don't hesitate to like our Facebook Page and also subscribe to our mailing lists.
For More Inquiries about Redemption Teasers, please, kindly drop a comment below We will respond to you ASAP.
I HOPE THIS POST WAS USEFUL, PLEASE DO NOT HESITATE TO SHARE WITH FRIENDS!!
Tags: Redemption November Teasers, Redemption Teasers, Redemption Teasers 2022 November Episodes