Doodsondes 4 December Teasers is out and the Summary of the whole December Episode has been uploaded here on doraupdates.com, Read on and Stay Entertained.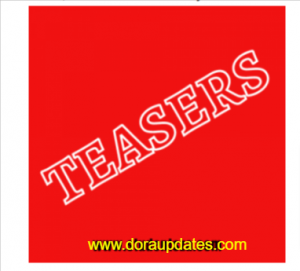 Doodsondes 4 Teasers 2022 December Episodes, Full Story
Thursday 1 December 2022
Episode 73
Emir and Caner plan to save Cagatay from his scandal. Mahmut and Sahika's lies are caught by Hasan Ali, but his plot for revenge might lead to someone's untimely death.
Friday 2 December 2022
Episode 74
Sahika tries to prove she's ready for motherhood, and Cagatay's plan to prove his innocence blows up in his face. Meanwhile, Hasan Ali has a bloody mess to clean up.
Click Here for more of Soapie Teasers
Monday 5 December 2022
Episode 75
Cagatay tries to make things right with Yildiz, and Cansu's lies finally catch up with her. Sahika successfully passes the blame on to others once again.
Tuesday 6 December 2022
Episode 76
Sahika flaunts her marriage in everyone's face, but Ender feels she's taking it too far. Hasan Ali steps in to keep Yildiz close, while Cagatay still pines after her.
Wednesday 7 December 2022
Episode 77
Sahika puts a plan into place to get Yildiz and Cagatay to make up, but everything goes horribly wrong. Cansu gets her revenge on Yildiz.
Thursday 8 December 2022
Episode 78
Yildiz struggles to come to terms with her present situation after waking up from her coma. How will Cansu hold on to everything she has now that Yildiz is awake?
Friday 9 December 2022
Episode 79
As Yildiz struggles to accept the world she's woken up in, Cansu is determined to keep Junior and Catagay for herself… Will Yildiz ever see her son again?
Monday 12 December 2022
Episode 80
Yildiz gets her second chance at true happiness with her husband and child. Will she use it wisely? Will her enemies give her the chance to?
Tuesday 13 December 2022
Episode 81
Yildiz tries teaching Asuman to drive, which naturally results in chaos. Hasan Ali continues to sabotage Cagatay and get rid of Sahika. Cansu continues to stalk the family.
Wednesday 14 December 2022
Episode 82
When Sahika learns Hasan Ali wants to get rid of her, she cooks up a plan of her own. Will her lethal plot work, or will Hasan Ali live on?
Thursday 15 December 2022
Episode 83
With her upcoming divorce, Sahika makes Hayati her accomplice in an attempt to rectify the situation. Cagatay sets out to confirm the suspicions he has regarding his father.
Friday 16 December 2022
Episode 84
Hasan Ali puts on the performance of his life to get Cagatay to forgive him. Meanwhile, Feride's suggestion that Yildiz should hire a nanny for Junior is met with mixed emotions.
Monday 19 December 2022
Episode 85
Fed up with her tactics, Hasan Ali gets even with Sahika using Ender. A suspicious Yildiz embarrasses Cagatay in public. And Asuman's social debut ends in horror.
Tuesday 20 December 2022
Episode 86
While Omer's past catches up with him, Hasan Ali falls into Ender and Sahika's trap, and Yildiz and Asuman run in circles trying to recover the necklace.
Wednesday 21 December 2022
Episode 87
When Cagatay finds out his father set him up, Hasan Ali turns to Ender for help. Meanwhile, Yildiz and Asuman's desperate attempts to get money land them in bigger trouble.
Thursday 22 December 2022
Episode 88
Ender betrays Sahika at the last minute and teams up with Hasan Ali. Asuman and Yildiz seem to dig a bigger hole for themselves, but how far will they go?
Friday 23 December 2022
Episode 89
Sahika shocks Ender and Hasan Ali with her next move. Meanwhile, Zehra and Caner get themselves into big trouble. While Yildiz and Asuman discover their problems are getting more complicated.
Monday 26 December 2022
Episode 90
Ender devises a plan to help Yildiz sell a painting to Hasan Ali. Omer's stalker approaches Sahika, and she warns Omer about the strange woman. Will he listen to her?
Tuesday 27 December 2022
Episode 91
Cagatay is still furious at Yildiz. Will their relationship recover or was this the last straw? And is there still hope for Kaya and Ender?
Wednesday 28 December 2022
Episode 92
Celebrations are in order as Hasan Ali celebrates his first grandchild, but his ways get him in trouble. Emir sabotages his chances of finding love with an old friend.
Thursday 29 December 2022
Episode 93
Cansu decides to make those who have wronged her pay, but someone ends up paying with their life. Ender can't shake her suspicion of Kaya.
Friday 30 December 2022
Episode 94
Yildiz has decided honesty is the best policy, but no one likes it. Hasan Ali sets his eyes on an old love, as well as Sahika's shares.
To help you get the most recent updates about Doodsondes 4 Teasers and Teasers all over South Africa, Don't hesitate to like our Facebook Page and also subscribe to our mailing lists.
For More Inquiries about Doodsondes 4 Teasers, please, kindly drop a comment below We will respond to you ASAP.
I HOPE THIS POST WAS USEFUL, PLEASE DO NOT HESITATE TO SHARE WITH FRIENDS!!
Tags: Doodsondes 4, Doodsondes 4 December Teasers, Imbewu Teasers 2022 June Episodes